---
Are you looking for the latest hairstyles for ladies in Nigeria The fact that braids are simple, versatile, and cost friendly make them a good option when considering easy to go hair styling options. Besides, these styles are protective considering that they do not require constant combing and exposure to both chemicals, and they are also desirable for faster hair growth. Additionally, your hair will remain untangled even when beating a rainy day or having a good time at the swimming pool.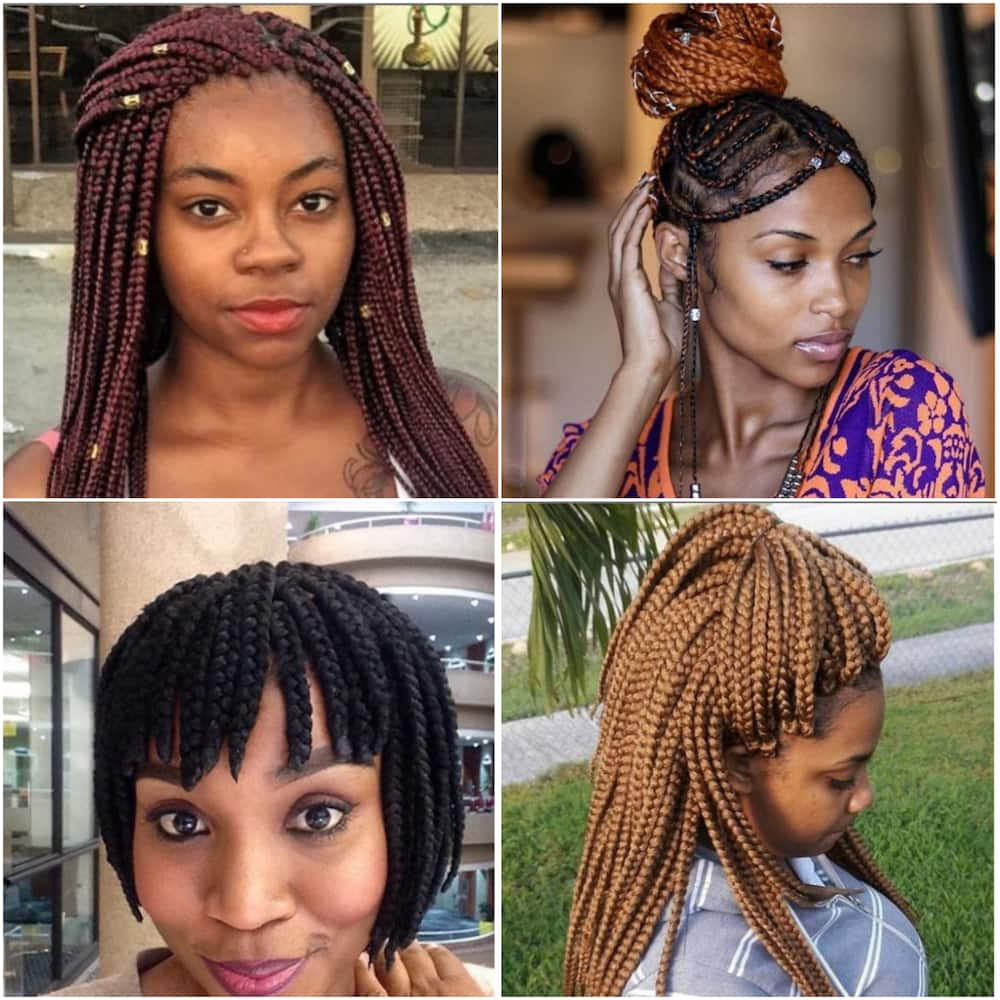 Image: Instagram @profusionhair (Modified by the author)
Source: Instagram
For all you know, braiding is one of the most popular natural African hairdos that come in multiples, and unlikely to run out fashion. African hair braiding styles pictures provide endless options that will undoubtedly leave you indecisive on the most suitable style. However, our description should not only inform but also guide you on the most appropriate hair styling option for a flaunting look. So, join several other famous African ladies that cannot resist this hairdo by reading further for insightful details on favorite braids hairstyles and why these styles are suitable for both formal and informal occasions.
30 best African braids hairstyles 2019
What are the most popular braids? Regardless of the type of hair extensions you opt for, these braids hairstyles 2019 pictures will help you settle for the perfect hairdo that will bring out your best facial features and enhance your looks.
1. Big bun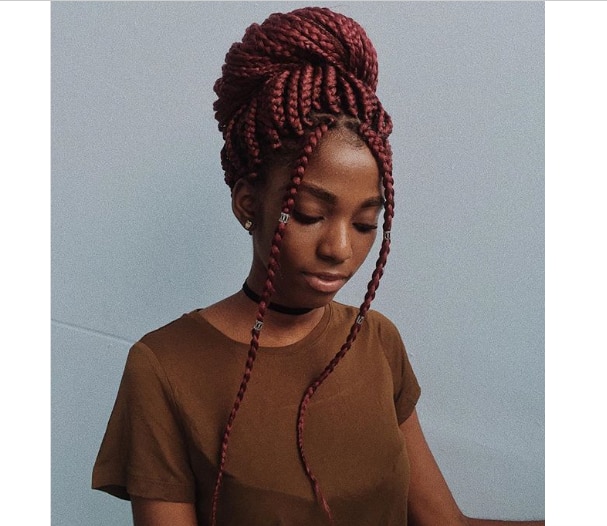 Image: Instagram @kueen_liz
Source: Instagram
This styling option is among the favorite for most stylish African beauties. Most elements about the style look epic and will undoubtedly turn heads regardless of the occasion. You can loosely hold the bun or tightly hold all the plaited hair, depending on your preference.
2. Down-to-there platinum hair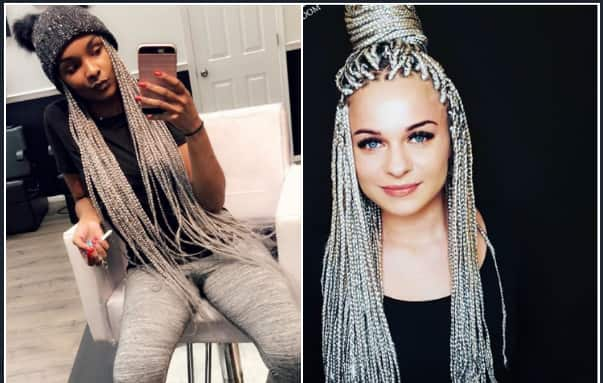 Image: Instagram @simplyunique_noellehaarstylist, @tamedandtwisted
Source: Instagram
South African women cannot resist this creative styling option that stole scenes at Essence Fest. Of course, Mary J. Blige brought this fancy hairstyle from New Orleans Streets with her, and its stunning appearance is worth trying if you are bold enough to rock the color. You may opt to leave the extensions hanging or tie them neatly as shown above.
3. High ponytail styling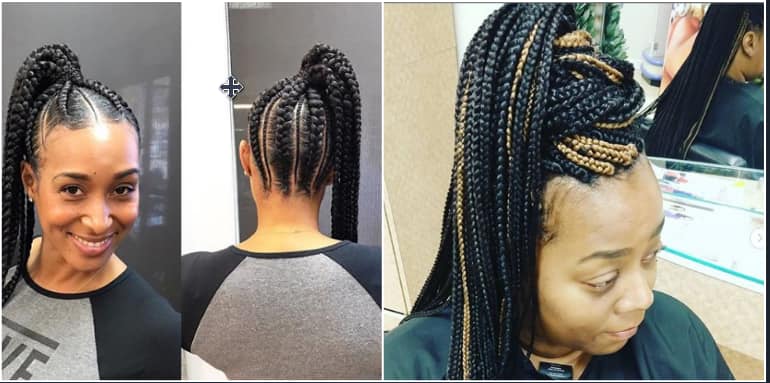 Image: Instagram @creuniquestyles, @georgette_braid_and_weave
Source: Instagram
Are you confident of your facial features? Then high ponytail is the style to go for. It can be done on cornrows plaited with hair extensions, or single strands can be plaited into the style as shown above. If you love top featuring hairdos with colored extensions, you can go for platinum high pony style below.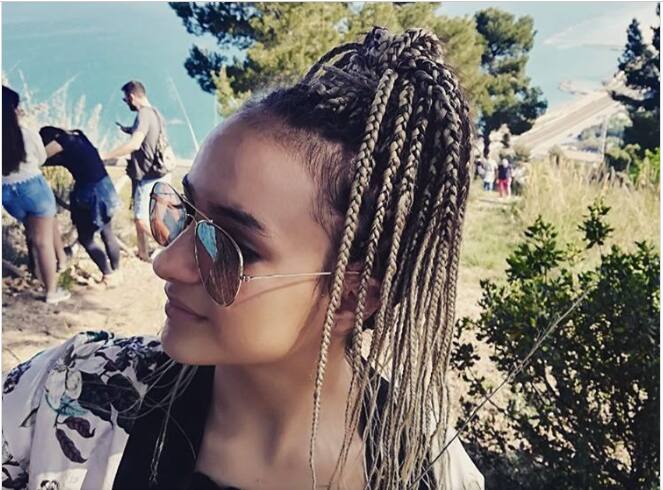 Image: Instagram @madheaddeca_.
Source: Instagram
4. Side bun with a neat circular knot at the back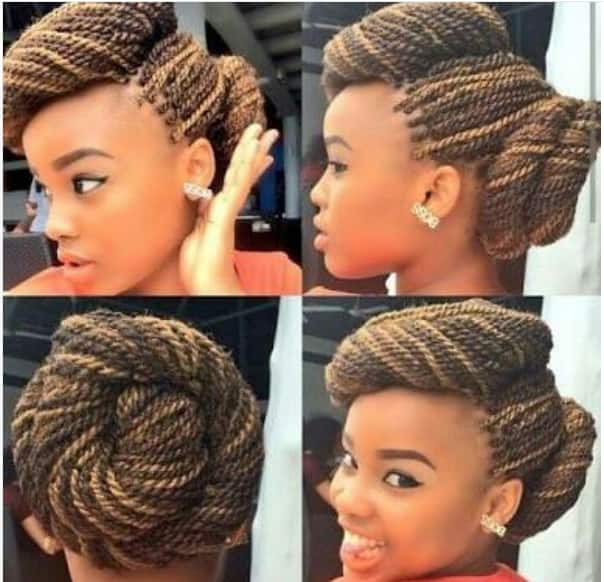 Image: africanbraidingaustralia
Source: Instagram
Looking for a classy way to tie those plaited hair extension strands? You can style them by making a neat side bun and tying the remaining hair in a circular knot at the back. This combination to some extent hides the not so good facial features and prevents the discomfort of hair falling on your face. This hairdo is suitable for brides as it holds the tiara and the veil nicely.
5. Unicorn dreams styled in two ponytails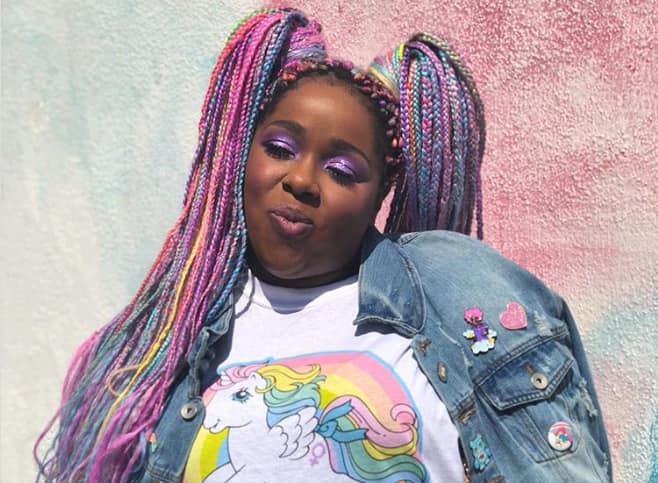 Image: Instagram @unicorn.curls
Source: Instagram
The hairstyle comes with a colorful style characteristic, and it is interesting how it is tied in two high ponytails. If you are daring to try rainbow braids, you can style them in high ponytails as above and apply matching make up to stand out. This is not a very appropriate styling alternative for the office and formal events as it screams your presence.
6. Side swept cornrows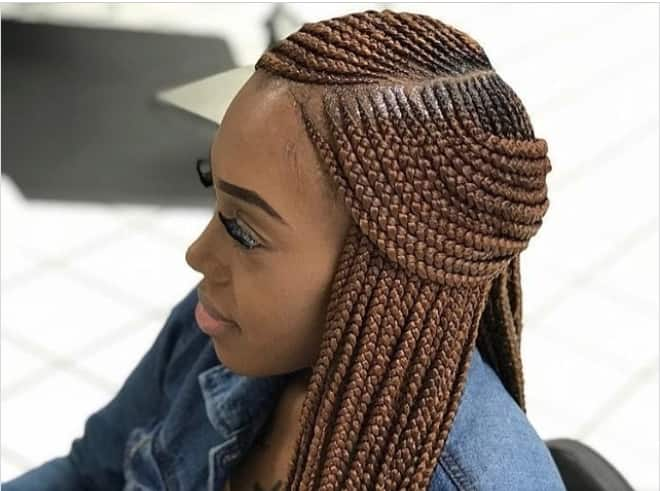 Image: Instagram @maboplus
Source: Instagram
Side swept always enhances one's looks, more so when neatly organized as shown above. You can do this style using your favorite color of braids.
7. Kandy cornrows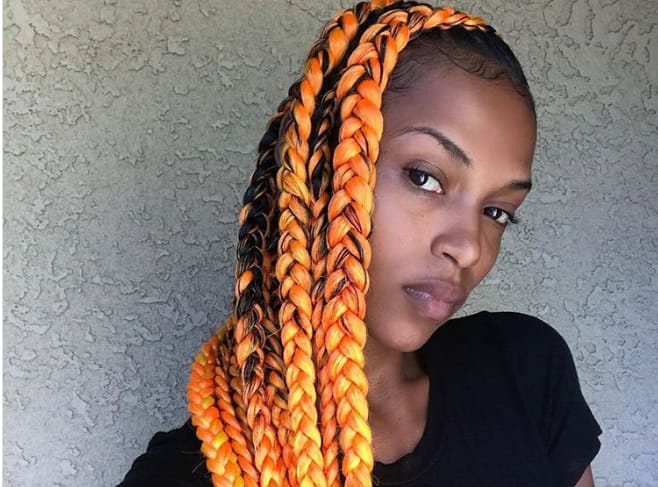 Image: Instagram @beyondthetangles
Source: Instagram
The yellow and orange colored hair extensions are visually compelling with an edible feel that makes them extra attractive. While not many people cherish Kandy corn, they are a catch for daring girls looking for a perfect fit hairstyle.
8. Stylish cornrows with strands of plaited hair extensions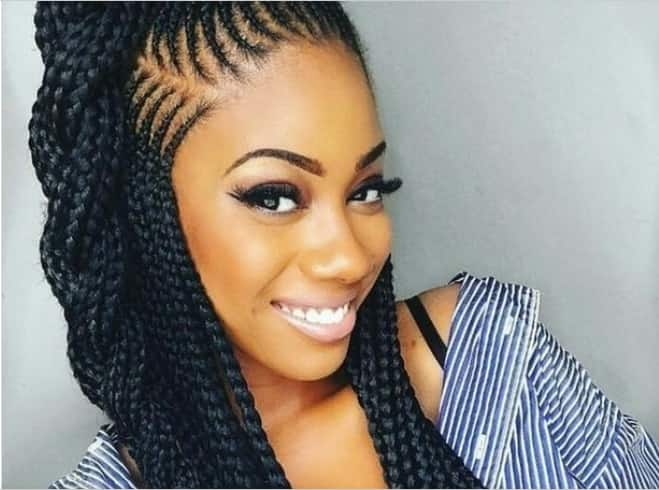 Image: Instagram @maboplus
Source: Instagram
Tired of straight back or one design of cornrows? You can opt for some lines going to the middle and some falling on the sides, with braids at the back or cornrows from the back to the middle. You can then take a number of plaited hair and create a bigger strand. This combination looks complicated, but you will love your choice.
9. Beads for days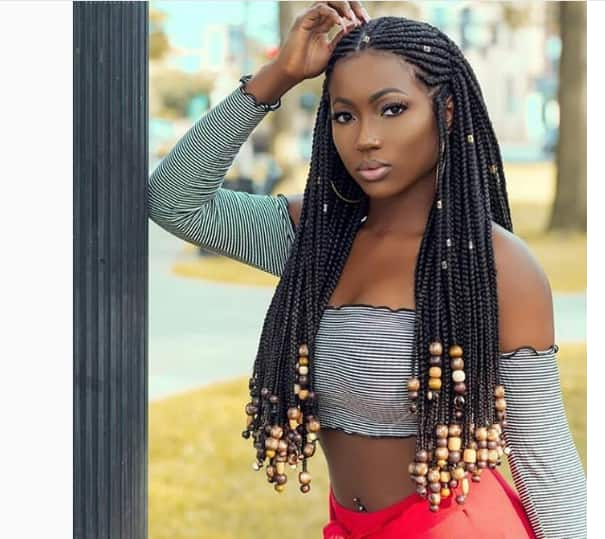 Image: Instagram @ghanaianhairstyles
Source: Instagram
Now, some of us love beads, and if given the opportunity, we can include them on our head to toe outfits. Beaded braids give you a classy but traditional look, and you can add other accessories selectively so that you do not overdo the ornaments.
10. Curved straight backs with low bun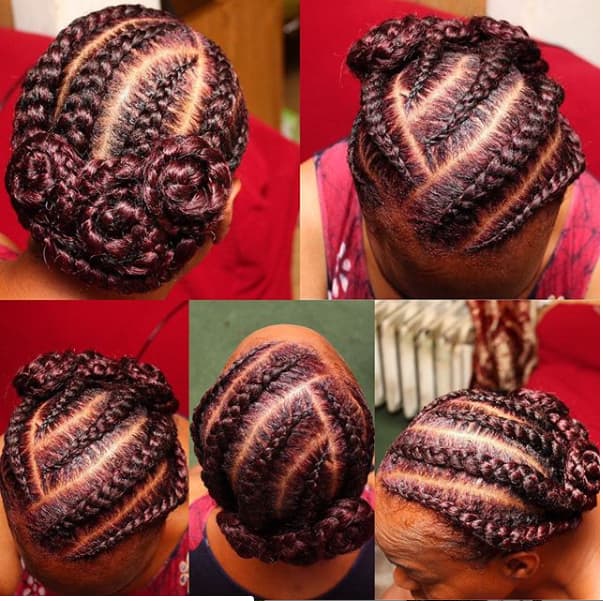 Image: Instagram @lanishahairalbum
Source: Instagram
Instead of letting your curved straight backs hang on your shoulders, you can opt to tie them in a neat low bun as shown above. This will prevent hair from irritating your hair and also allow you to show off your beautiful facial features.
11. Braids and buns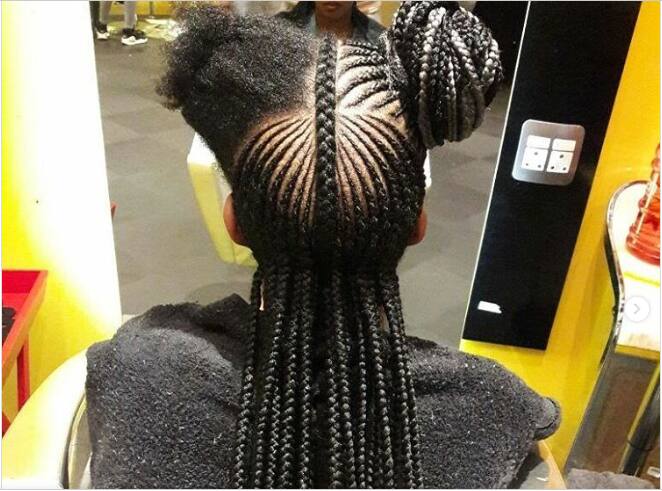 Image: Instagram @indalonubiannaturals
Source: Instagram
Intricate style lovers have a reason to smile with plaited strands and bun touches. A couple of front buns and the hanging hair extensions make up this amazing style that looks good on both adults and children. Elevate your ordinary looks to the next level with this neatly done hairdo.
12. Up top hairdo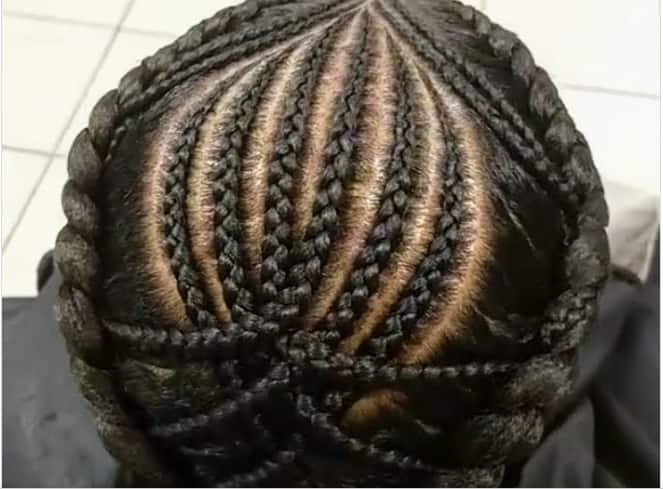 Image: Instagram @uptophair13
Source: Instagram
Up-top hairdo comes in different sizes, depending on one's tastes and preference. This simple but elegant style also looks good on men, and you can accessorize it with beads.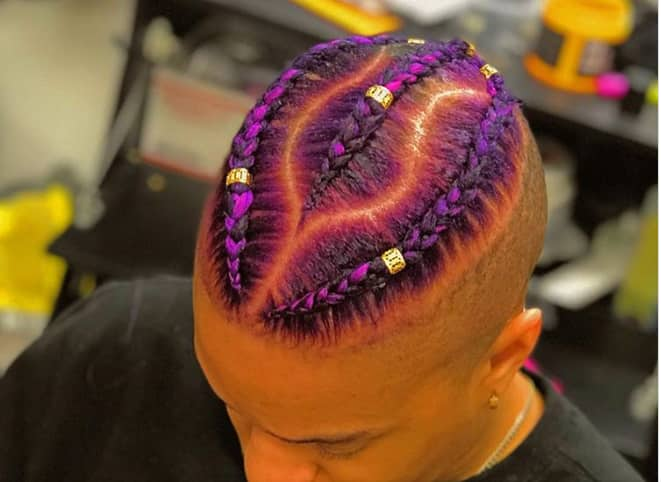 Image: Instagram @chantfarrar
Source: Instagram
13. Crowned hairdo
Image: Instagram @konfidence_is_ki_.
Source: Instagram
Want to feel like a queen or princess? Then the crowned hairdo is one that you should go for, as it will give you full-time crown as long as you have this hairdo. For a distinct crown, more hair extensions are combined neatly on the sides to form the hairdo.
Image: Instagram @styledbymrstacey
Source: Instagram
14. Fulani hairdo
Image: Instagram @mobuplus, @braidskulture
Source: Instagram
Fulani are some of the most common braids hairstyles in SA. You can accessorize with appropriate ornaments to get a killer look, and you can opt for the high pony look or straight backs.
15. Half up, half down
Image: Instagram @dtouched_.
Source: Instagram
Half up, half down hairstyle is stunning however simple, and it will let you keep that chunk of hair off your face. The half up brings out the beautiful features of the face, and the half down draws attention to the sides, making it hard for people to notice your flaws.
16. Straight backs
Image: Instagram @resie_braids, @atouchofessence
Source: Instagram
Straight backs are back in fashion as if they never left! This simple style when neatly done enhances the looks of an individual and is a must-try look this year. You may opt for very straight backs, wavy straight backs, big, or small ones.
17. Stitched hairstyles
Image: Instagram @chikistyle.unique, @eliteglamstudio_ 317_shay_braidz, @shes_hair_savvy
Source: Instagram
Have you noted the difference between straight backs and stitched hair extensions? With simple straight backs, no definite pattern is brought out when plaiting. On the other hand, stitched hair extensions require a distinct pattern to be realized, and it can be done as straight back or plaited towards the center of the head like the last picture above, or even in a side-swept as shown below.
18. Box braids hairstyles 2019
1. Long boxed hair extensions loosely held
Image: Instagram @glambiologist_, @ simiestyles, @blackhairomg
Source: Instagram
For the lovers of length, neatly done long box hairdo is a style that you should try before the year ends. You can do big or small box braids hairstyles depending on your taste and preference. This style is very neat and makes your face look longer, and you have the option of simply leaving the hair hanging and still leave heads turning.
2. Short box hairdo and half up do
Image: Instagram @delilah_braids
Source: Instagram
Did you know that you can do an updo with short hair extensions? Here, the plaited hair extension does not go beyond the neck, and you can tie the ones at the front in a neat up do as shown above. You may also opt for big, short box plaited strands and tie them loosely as shown below
Image: Instagram @shabies_hair_style, @braidsbynik
Source: Instagram
3. Twisted box
Image: Instagram @gracilyndiamond_london
Source: Instagram
Box hairdos do not limit you to three strands plaiting hairstyle. You can opt for a twisted alternative as shown above and further enhance the look with a front updo.
19. Criss-cross goddess hairstyle
Image: Instagram @profusionhair
Source: Instagram
These chunky cornrows, criss-crossing each other as shown above are a protective hairstyle that takes a short time to do an undo. If neatly done, you can rock this simple but gorgeous hairstyle to work and other social functions. Also, you can opt for several criss-crosses and smaller size of hair extension.
20. Neat, simple tie at the front
Image: Instagram @_bettyrose
Source: Instagram
So, you want to tie the plaited hair extension at the middle of your head but do not want them hanging. You can neatly style the ends in a simple tie at the front as shown above. The advantage of this hairstyle is that it is not full-time, and you can quickly change the hairstyle when necessary.
21. Bow tie hairstyle
Image: Instagram @besamnatural
Source: Instagram
Do you want to go an extra mile to make the desired fashion statement? Styling your plaited hair extension in a neat bow tie is the way to go. You can use hair-clips to achieve this look.
22. Braided Mohawk
Image: Instagram @blackhair_flair
Source: Instagram
Does not she look amazingly beautiful? This style can be done on any types of hair extensions, whether you have shaved sides or have hair all round. Instead of leaving the ends hanging, you can decide to fasten them neatly to clearly bring out the Mohawk look.
23. Crotchet hairdo
Image: Instagram @_designsbydee_.
Source: Instagram
Well, some of us cannot stand the discomfort of plaiting one braid after another. The good news is that you can still look gorgeous with crocheted hair extension of your preference like the one above. You can style the ends by making curls using hot water.
24. Double buns hairstyle
Image: Instagram @mo_love23
Source: Instagram
This hairdo is perfect for those who want to achieve the modern pussycat look using two buns. You can try these on all sorts of hair extensions as long as the buns are equally balanced.
25. Fringe styling option
Image: Instagram @mmras_hairtique
Source: Instagram
You can never go wrong with fringe. This hairstyle can be done on long, short, big, and small plaited hair extensions. Additionally, you can enhance the look by adding ornaments and beads to the fringe part.
Image: Instagram @nigerianbraidsgang
Source: Instagram
26. Bob styling option
Image: Instagram @ghanaianhairstyles
Source: Instagram
Bob hairstyle never goes out of fashion; therefore, you should consider it this year. It is amazing that both long and short braids can be styled in a bob, and you even have the option of mixing colors if that is what you like.
Image: Instagram @african_braids_actions, @viola_doe
Source: Instagram
27. Accessorizing hair extensions with stitched thread
Image: Instagram @minyatas_touch
Source: Instagram
Now, you have perfectly plaited your hair with desired hair extensions and are looking for some simple additional accessories to rock. Why not stitch some of the hair extension with thread? This is a modern look that many are trying, and you can always settle for your favorite color of threads.
Image: Instagram @bawbthabuilder
Source: Instagram
28. Braided Bantu knots
Image: Instagram @africansgonenatural
Source: Instagram
Do you love that traditional look but need hair extensions to enhance it? You can opt for braided Bantu knots. That look is perfect for any traditional event and can still be rocked to work.
Image: Instagram @issaye_.
Source: Instagram
29. Spiral hairstyle
Image: Instagram @iyolage_blackbling
Source: Instagram
This style can be done on even old braids as long as the spiral bit is neatly done and accessorized with hairpins.
30. Butterfly hairstyle
Image: Instagram @melange_studio15
Source: Instagram
Wothappen style is one that you can always settle for when you want a simple but elegant look. This style takes a very short time to do and undo and does not look so bad even when it gets old.
Besides ranking top in beauty contests, Nigerian women love the African culture as demonstrated through braided hairstyle fashion. Which of the African braids hairstyles 2019 discussed above excited you the most? Make sure you try at least 12 of the styles above before the year ends and share with us your opinion in the comments below.