Recalling one of the most popular songs 'Who run the world? Girls!' by Beyoncé, we can conclude that women are not so fragile and weak as most believe. On the contrary, they set the pace for reality and influence in every aspect of life. These 50 most popular women in the world inspire many people around the world. Find out how they managed to become so famous and what field of scope they are involved in.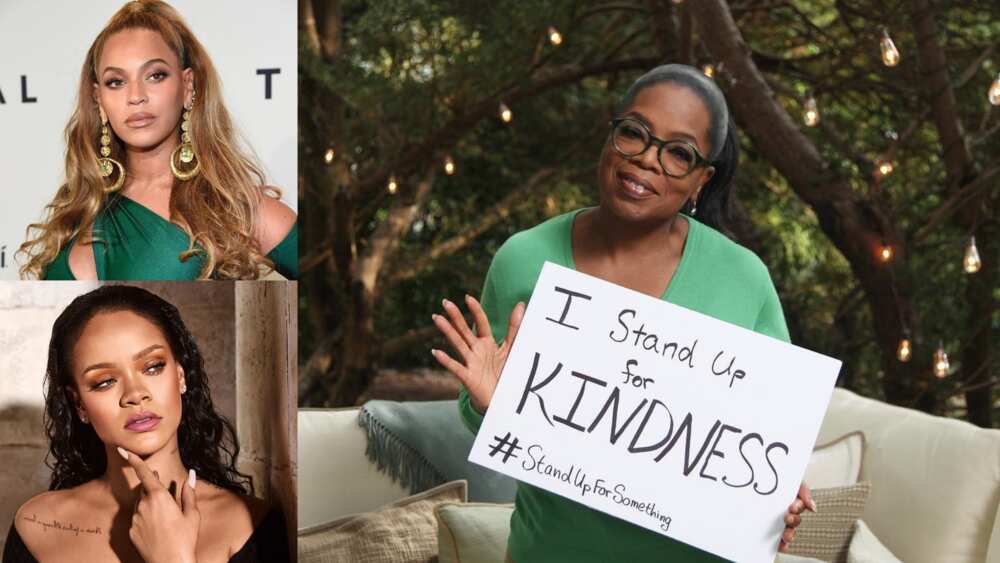 Image: instagram.com, @beyonce, @badgalriri, @oprah (modified by author)
Source: UGC
Internet users are always searching for interesting information, and the top 10 famous and influential women are part of those searches. This piece has compiled that list for you. You will also get to read about some honourable mentions before the list rolls on. Here are the details of popular women from different spheres and times.
20. Demi Lovato
Image: instagram.com, @ddlovato
Source: UGC
(August 20, 1992, Dallas) One more gifted personality: actress and sing-songwriter. Her acting career commenced in her early years. Therefore she has got a substantial list of films by now. As for singing, Demi attained success too. There are 6 albums so far!
19. Paris Hilton
(February 17, 1981, New-York) She is a notorious socialite, heiress of the Hilton dynasty, scandalous actress, and singer. Paris became a celebrity after participation in the reality show 'The Simple Life' in the early 2000s. She is one of the most popular socialites in the world.
18. Angelina Jolie
Image: instagram.com, @angelinajolieofficial
Source: UGC
(June 4, 1975, Los Angeles) An idol of beauty, gifted actress, philanthropist, mother of many adopted children, and the United Nations Goodwill Ambassador. Her occupations are quite diverse. Moreover, Ms. Jolie also takes up modeling, directing, and writing film scripts. She received international love and fame after acting as the heroine in Lara Croft.
17. Kim (Kimberly) Kardashian-West
Image: instagram.com, @kimkardashian
Source: UGC
(October 21, 1980, Los-Angeles) Widely known as Kim Kardashian, she is one of the most popular women in the world. Kim is a reality star who once took part in 'Strictly Come Dancing: USA' (the 7th season) and is now the main cast of the hit reality show 'Keeping Up with the Kardashians'.
16. Miley Cyrus
Image: instagram.com, @mileycyrus
(November 23, 1992, Tennessee) She is an American actress and singer. She shot to fame after her lead role in the TV series 'Hanna Montana.' Consequently, Miley recorded two soundtracks for the series and started her singer career. Now she is a very popular singer.
15. Nicki Minaj
Image: instagram.com, @nickiminaj
(December 2, 1982, Port of Spain, Republic of Trinidad and Tobago) She is an American rapper, singer/songwriter, and actress. Her first taste of success came for her in 2009 when she released three tracks 'Playtime is Over', 'Beem Me Up', and 'Scotty'. Consequently, Nicki Minaj's debut album 'Pink Friday' made a splash in the music industry.
14. Shakira
(February 2, 1977, Barranquilla, Columbia) She is widely known and loved owing to her multiple talents (singer and songwriter, dancer, musical producer, model, and choreographer) and apparent charm. She is often referred to as the most successful Latin American female artist of English and Spanish-speaking musical bandstands. Moreover, in Columbia, she conducts charity work.
13. Katy Perry
Image: instagram.com, @katyperry
(October 25, 1984, Santa- Barbara) She is an American composer, actress, singer and the United Nations Goodwill Ambassador. In 2007 she recorded a song 'I Kissed a Girl' and became a star overnight. Since that time all her tracks are immediately successful. All her videos are awesome and thrilling. Among the most requested tracks in the web are: 'Firework', 'Waking Up in Vegas', 'Hot n Cold', 'Part of Me', 'Last Friday Night', etc.
12. Jennifer Lopez
Image: instagram.com, @jlo
Source: UGC
(July 24, 1969, New-York) She managed to make a brilliant career from acting and singing but Jennifer is quite successful in different spheres including dancing, producing, choreographing, and being a business woman. Jennifer Lopez actively records tracks, shoots music videos and stars in various shows and programs.
11. Beyoncé
Image: instagram.com, @beyonce
Source: UGC
(September 4, 1981, Houston) She is an American R'n'B singer, dancer, perfumer, and producer. From early childhood, Beyoncé Giselle took part in miscellaneous dance and vocal competitions. In the late 1990's, Beyoncé was a soloist of Destiny Child, a popular R'n'B band. Though, nowadays she has a brilliant singing career all on her own. The most notable songs of hers are: 'Crazy in Love', 'Baby Boy', 'Single Ladies', 'Beautiful Liar', and 'Irreplaceable'.
In April 2019, her self-directed film, Homecoming premiered. The film featured her performance at Coachella, but the impact she wanted to have is to show coloured women can also achieve high goals in life.
10. Madonna
Image: instagram.com, @madonna
(August 16, 1958, Michigan) She opens the top 10 of the most adored female celebrities. She is an idol of many people: singer and songwriter, musical producer and business-lady. Her career began from dancing and singing rock songs. She loves to switch up her looks and music varieties she performs.
9. Adele
Image: instagram.com, @adele
Adele Laurie Blue Adkins (May 5, 1988, London) is a British singer, poet, and songwriter. The debut album '19' was very successful. In 2009, Adele received 2 'Grammy' awards in the categories 'Best New Singer' and 'Best Vocal Performance, Female.'
She is one of the most famous musicians in the world considering the fact that her song "Hello" has 2.5 billion views on YouTube.
8. Selena Gomez
Image: instagram.com, @selenagomez
Source: UGC
(July 22, 1992, Texas) She is an American movie and TV show actress, voice actress, composer, designer, model, poetess, and UNICEF Goodwill Ambassador. As a child, she was already popular owing to her lead performance in Disney TV series 'Wizards of Waverly Place'. For her part in the series, she received the 'Kids' Choice Award'. Today Selena has got a career of a vocalist. Her tracks are easy, catchy and rhythmic. It's no wonder so many people are crazy about her.
7. Britney Spears
Image: instagram.com, @britneyspears
(December 2, 1981, Mississippi) She became a real star in the late 1990's. Her songs and clips conquered the whole world. Besides being a pop singer, she is a dancer, model, poetess, and actress. She has sold more than 100 millions albums. Her debut album 'Baby One More Time' went sold more than 30 million of copies and the second one 'Oops!.. I Did It Again' – sold 26 million. Nowadays her career is in a slump, but she is still cherished and loved by fans.
6. Taylor Swift
Image: instagram.com, @taylorswift
(December 13, 1989, Pennsylvania) She made a successful career of pop and country music, songwriter, and talented actress. She became famous after her second album release 'Fearless'. The main singles 'Love Story' and 'You Belong With Me' were international hits. This album was awarded 4 'Grammies' and became the best selling in the world.
5. Lady Gaga
(March 28, 1986, New-York) She is a real star! We know that Lady Gaga is a talented singer and a pretty good actress. Moreover, she worked as a DJ, producer, designer and philanthropist. Her voice is recognizable among the others, and her looks are always unpredictable specific and gaudy. Lady Gaga became famous owing to songs like 'Just Dance, 'Telephone', 'Paparazzi', 'Bad Romance', etc.
4. Cher (Cherilyn Sarkisian)
Image: instagram.com, @cher
Source: UGC
(May 10, 1946, California) She is an American pop-singer, poetess, actress, movie director, and musical producer. She has a unique personality. She has won 'Oscar', 'Grammy', 'Emmy' and 3 'Golden Globes' awards. Her career began at the age of 17. The first success was a song 'I Got You Babe' that was performed in the duet 'Sonny and Cher'. Consequently, Cher proved herself as a soloist and TV hostess.
3. Rihanna
Image: instagram.com, @badgalriri
Source: UGC
(February 20, 1988, Barbados) She is an American R&B, pop singer, and actress. Her singing career started at age 16 when she moved to the USA. She became famous abruptly after the release of the debut album 'Music of the Sun', and the single 'Pon de Replay' had been rotated on radio and music channels. The most frequently requested songs are: 'Don't Stop the Music', 'Rude Boy', 'Hard', 'Umbrella' and 'We Found Love.'
Rihanna is acknowledged to be the best selling artist of all time because more than 20 million of the album copies and 60 million singles were sold. She received 7 'Grammys', 6 'American Music Awards', 18 'Billboard Music Awards', and a specially made for her 'Icon Award'. Evidently, she is one of the most popular people in the world.
Her business – Fenty Beauty is also successful.
2. Lana Del Ray
(June 21, 1985, New-York) She is an American singer and songwriter. According to the points of view of critics, her music has got 'cinematograph' style, tragic relationship, melancholy preoccupations, and allusions to American pop-culture of the 1950s and 1960s.
Image: instagram.com, @lanadelrey
Source: UGC
Her debut single 'Video Games' made Lana famous almost immediately. However, in 2012, a new hit conquered everybody. It was a remix 'Summertime Sadness' that shocked the world. Nowadays she keeps on working on the 4th album. No doubts, she deserves the 2nd place of 50 female celebrities.
The leader of 50 most popular women is…drum roll… Oprah!!!
1. Oprah Winfrey
Image: instagram.com, @oprah
Source: UGC
(January 29, 1954) She is an American anchorwoman, actress, producer, female public figure, and TV talk-show hostess 'The Oprah Winfrey Show' (1986-2011). According to Forbes magazine, Oprah is the 9th among the most influential women in 2005 and the 1st – in 2007; in 2009 she became the most dominant person in show business. In 2010- 2013 Oprah was the most 'powerful' celebrity of the world. Her fortune is approximately 2.8 billion dollars which is more than any other show-business woman possesses. Oprah Winfrey is also the most successful media magnate: She owns a video production company, the magazine 'The Oprah Magazine', commercially profitable resource Oprah.com, a radio network, and the cable television station OWN (The Oprah Winfrey Network).
So, there you have it — the rating of 50 most popular women in the world. We have the most beautiful actresses, the most popular singers, TV hostesses, philanthropists, and activists. They are quite different personalities from diverse backgrounds and origin but one thing that unites them is hard work. Each female on this list had to go through ups and downs to attain success, recognition, and fortune. Some of them were luckier to be born in wealthy families or to inherit the fortune. Others had to act on their own. Nevertheless, every above-mentioned woman deserves the right to be respected and loved by the audience.