Ten signs You May Have CoronaVirus But know yet
10 signs You May Have Corona Virus But Don't Know Yet
What are the symptoms of coronavirus?
Symptoms of coronavirus COVID-19 include a cough, sore throat, aches and pains, fever and fatigue. Some cases are mild, such as the common cold, while others are more likely to lead to pneumonia.
From a case series of 138 patients in a hospital in Wuhan, China, approximately one quarter required intensive care, Dr. Azar said. The most common early symptoms were:
Fever
Fatigue
Dry cough
Shortness of breath at day five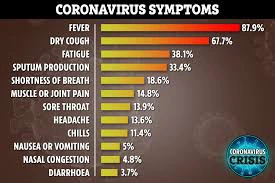 In late March, European and U.S. experts reported two new symptoms:
Loss of smell
Altered sense of taste
Opthamologists reported another, rare symptom – pink eye:
Redness and swelling of the eyes
Sticky discharge
The Centers for Disease Control and Prevention believes at this time that symptoms of COVID-19 may appear in as few as two days or as long as 14 days after exposure. Dr. Azar notes that many people have mild symptoms at the beginning and later develop shortness of breath and respiratory distress.
Less frequently reported symptoms include nausea and vomiting, stuffy nose and diarrhea.
Stay safe ,stay at home